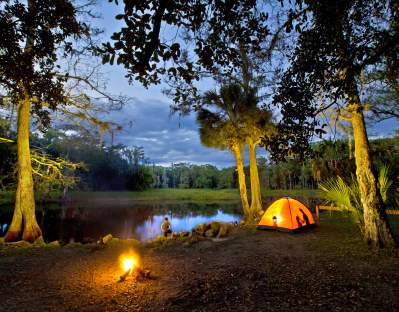 Camping in Florida allows for entire families–pets included–to enjoy a great holiday together. Some of the most beautiful landscapes, beaches, and state, federal, national, and privately owned camping parks are located in the Sunshine State. Florida boasts nearly 150 state parks alone, many of which feature beaches, and are pet friendly.
Campgrounds: One Word, Many Meanings
The sheer variety of campgrounds in Florida can be more than a little overwhelming. State Parks feature areas for camping, as do some National Forests. There are public campgrounds, private campgrounds, rv sites, and even luxury rv resorts. The terminology alone can leave a vacation planner's head spinning.
The term "campground" can mean anything from a plot of earth to a fully developed, resort-like park, complete with swimming pools and tennis courts. In general, public campgrounds are those run by the government, and typically feature little development. However, some "campgrounds," even within State Parks and national forests, are managed by private interests. Campgrounds such as these will typically feature considerable development, and therefore, more "conveniences" to their guests.
"Franchise parks," such as KOAs, provide plots of land for folks with tents and/or RVs. Franchise parks offer advantages like consistent rates, and reliability in terms of what to expect. "RV parks," on the other hand, cater specifically to the needs of RV vacationers. Usually considerable development has been undertaken, with full facilities for RVs. Some even feature swimming pools, tennis courts, dining facilities, and other luxe features. Whichever type you select, be sure to book in advance. Florida campsites across categories fill up quickly, and many take reservations up to 11 months in advance.